About Us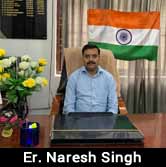 Did B.E.(MECHANICAL) from Govt. College of Engineering & Technology, Jammu and Master Of Engineering in ENERGY MANAGEMENT from SMVDU Jammu(J&K). Served as Lecturer in Govt. Polytechnic for women Jammu for five years.

Also Served as Senior Section Engineer (Electrical) in Rail Coach factory , Kapurthala of Indian Railways for almost three years. Joined Technical Education Department in May 2010 as Superintendent
To inculcate technological skills amongst youth to empower them for gainful employment through technical & vocational education; and to enhance productivity of formal & non-formal sector of economy by having close interaction with industry. We at Govt I.T.I Doda will impart futuristic Technical Education and install high patterns of discipline through our dedicated staff who shall get global standards, making our students technologically superior and ethically strong who in turn shall improve the quality of life of the human race".
• To offer skilled education to cater to the needs of the industry and society.
• To mould our students to be disciplined, competent and socially responsible skilled workers who will be assets to our nation's human resource pool.
• To provide state-of-the-art infrastructure and adopt latest methodologies for improving the caliber of the students and staff.
• To establish, maintain and continuously improve our Quality Management System.
• To create feedback mechanism about our performance and emerging trends in industry.
• To provide maximum outlets for expressing the latent talents of our students.

The purpose of this Placement Department is to deliver employment related services to the ITI students. One room with proper infrastructure has been allocated for this Department in our ITI. Newspapers, magazines and books have been made available in this Department which can be helpful to the ITI trainees to get employment information. Computer and internet facility has also been provided to this Department. So that student can access employment information by precooking the computers. Training & Placement endeavors to be a bridge between the Employers and the employee. Training & Placement is functional at this Institute since 2000. Training & Placement assist the students to plan their career, help in job searching, give career counseling, organize campus interviews, provides passed out trainees data to the Industries who want to conduct Interviews at their premises, Provides details of the job opening appearing in news papers and magazines and help the students get jobs as soon as they pass-out of the ITI.
Admissions are done in the month of July in every year. The admission notice is given in leading newspapers in the month of June. The exams are conducted on six month basis and conducted by Controller State Board of Tech. Education J&K.
1
Sh. Ravi Gupta
Superintendent
2
Smt. Roufa John
Supervisor
3
Sh. Raiees Ahmed Wani
COPA Instructor
4
Sh.Abdul Qayoom Zargar
Welder Instructor
5
Sh. Balwant Singh
Drawing Instructor
6
Smt. Kouser Parveen
Cutting & Sewing Instructor
7
Sh. Rajinder Kumar
Plumber Instructor
8
Sh. farooq Ahmad
Stenography Instructor
9
Sh. Sayeed Yasir
Draughtsman Civil instructor(A/A)
10
Sh. Waseem Khanji
Plumber Instructor(A/A)
11
Sh. Bharat Bhushan
Mechanic Hardware(A/A)
12
Sh. Sajid Asgar
IT & ESM Instructor(A/A)
13
Sh. Irshad Ahmad
Electrician Instructor(A/A)
1
Sh. Munshi Ram Sharma
Head Clerk
2
Sh. Pratap Kumar
Head Assistant
3
Sh. Surinder Singh
Junior Assistant
4
Sh. Jagdish Raj Manhas
Medical Assistant
5
Sh. Ranjeet Singh
Junior Assistant
1
Sh. Chaman Lal
Workshop Attendent
2
Sh. Mohd Iqbal
Workshop Attendent
3
Sh. Mohd Shafi
Workshop Attendent
4
Sh. Abdul Rashid
Hostel Cook
5
Sh. Mohd Mustafa
Choukidar
6
Sh. Mohd Shafi
Safaiwala